May 12, 2014
A Force for Change | International Nurses Day 2014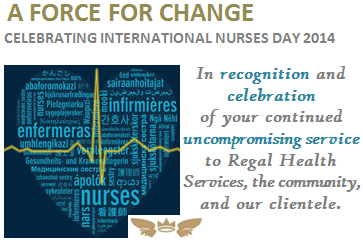 Today, on International Nurses Day, we are provided with an opportunity to recognise and celebrate the continued uncompromising service from our Nurses to the community.
The theme of this year's International Nurses Day is "A Force for Change".
As the largest group of health professionals who are the closest and often only available health workers to the population, Nurses have a great responsibility to improve the health of the population.
It is evident that the Nurses who are attracted to working with Regal embrace the essential healing qualities necessary to excel in Community Nursing. This is particularly relevant for our community in a time where we face an ageing society and how that ageing society views themselves is strongly valued. Together with significant changes to the healthcare system, this will affect a shift to consumer directed healthcare. Changing scopes of practice and the influence of technology are also changing the way Nurses work.
In celebration, recognition and gratitude.