September 24, 2015
Community Healthcare Champion named in the AFR/Westpac 100 Women of Influence 2015
MEDIA RELEASE
24 September 2015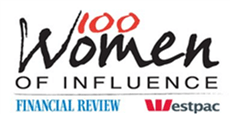 Community Healthcare Champion named in the AFR/Westpac 100 Women of Influence 2015
Anna Shepherd, CEO of Regal Home Health and Adjunct Associate Professor at The University of Sydney Nursing School, has been announced as a winner in The Australian Financial Review and Westpac 100 Women of Influence Awards for 2015 in the Business Enterprise category.
Over the past 32 years, Ms Shepherd has worked as a passionate advocate for Primary Health Nursing in the community. She has persisted in keeping Community Nursing on the national agenda and has driven the delivery of high-quality clinical services in the home.
She also drove Regal Home Health to become the first private home healthcare organisation in Australia to be accredited by the Australian Council on Healthcare Standards (ACHS), and it has been endorsed for excellence from 1994 to 2018.
"It's an absolute honour to be included in this list of remarkable women, and it has been an honour to advocate on behalf of Community Nurses, who make it possible for people to stay in their own homes, connected and happy," Ms Shepherd commented.
"I strongly believe that clinical healthcare in the home is a progressive response to our changing 21st century health needs, and I'm committed to ensuring that multidisciplinary home healthcare and Community Nurses continue to have a voice and are recognised for the sustainable quality outcomes achieved within our health system."
"It's fitting that this week is Community and Primary Health Nursing Week, promoted by the Australian College of Nursing, and I'm thrilled that the timing of this award allows me to highlight the phenomenal work Community Nurses do for their patients in all weather, every day of the year, around the country."
"It's also International Suicide Prevention Month, and I'd particularly like to draw attention to the vital role community healthcare can play in addressing social isolation and supporting people with mental health challenges to live independently and successfully within their own homes. It's my ambition that this award will help me to continue progressing community-based primary care, which I know has the power to transform people's lives and offer much needed holistic support to diverse communities."
Ms Shepherd's work on behalf of Community Nursing and home healthcare is informed and inspired by the work of her mother, Patricia R Shepherd RMN, FACN. Established in the 1960s, Regal Home Health developed an innovative nurse-led model of care that allows nurses to take control of their practice. Ms Shepherd joined her mother at Regal Home Health in 1984 and took on the role of CEO in 2000.
Ms Shepherd is also a founding member of the Sydney Nursing School Primary Health Care Nursing Forum, which was established by The University of Sydney this week. This leadership group brings together a diverse group of people who have actively represented the community through outstanding education, service delivery and evidence-based health outcomes.
Ms Shepherd was the only Australian woman to graduate from Harvard Business School's Entrepreneur Owner/President Management Program in 2010 and she now participates in the Harvard Alumni Mentor Program.
Ms Shepherd was nominated by ANZ for the Telstra Business Awards in 2011 and was nominated for the Ernst & Young Entrepreneur of the Year in 2012. She is also an active participant in the Commonwealth Bank's Women in Focus initiative, which brings together "women in business who are doing extraordinary things".
-ENDS-
Media Enquiries:
Jo Gitsham
CP Communications
P: 02 9460 9200 joanna@cpcommunications.com.au