April 24, 2014
Lest We Forget | A Regal Family Legacy dating back to 1915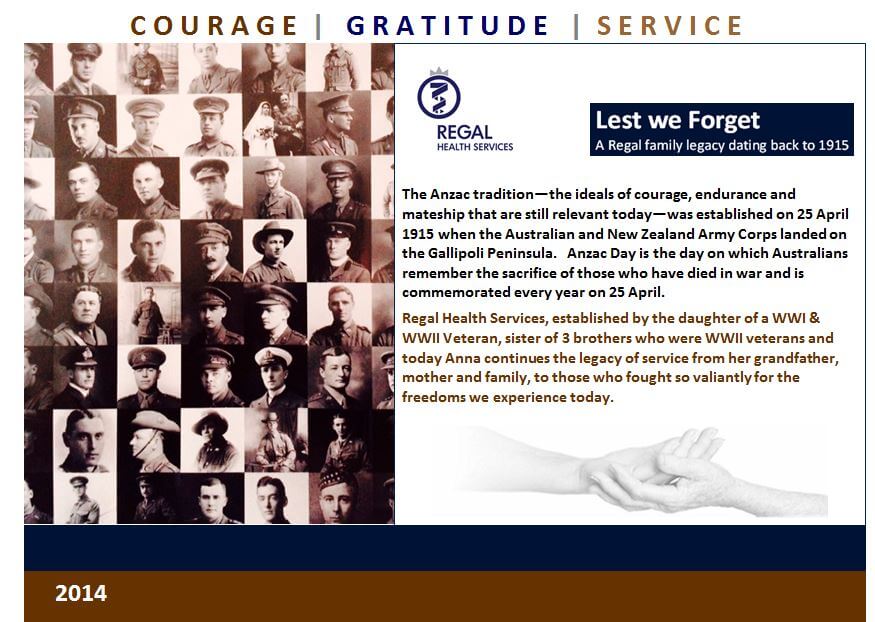 The Anzac tradition—the ideals of courage, endurance and mateship that are still relevant today—was established on 25 April 1915 when the Australian and New Zealand Army Corps landed on the Gallipoli Peninsula.
Anzac Day is the day on which Australians remember the sacrifice of those who have died in war and is commemorated every year on 25 April.
Regal Health Services, established by the daughter of a WWI & WWII Veteran, sister of 3 brothers who were WWII veterans and today CEO Anna Shepherd continues the legacy of service from her grandfather, mother and family, to those who fought so valiantly for the freedoms we experience today.
Lest we Forget.
Regal Health Services and The Department of Veteran's Affairs
Regal Health Services has been delivering healthcare needs to veterans for nearly 50 years, and are a trusted healthcare provider to the Department of Veteran's Affairs.
The Department of Veterans' Affairs (DVA) provides entitled veterans and war widow/widowers (entitled persons) with access to a range of quality health care and related services, including community nursing services, at DVA's expense. DVA provides access to community nursing services to meet an entitled person's assessed clinical and/or personal care needs in their own home under the DVA Community Nursing Program.
We welcome you to contact us on 9264 4555 or click here for fast online Service Express – we would be pleased to assist you.