Regal Home Health Community Nurses have a reputation for going that little bit further in the provision of home Nursing care. Our service is individually tailored to your needs and includes:
Assessing of needs and identifying risks
Establishing funding arrangements and agreement on service fees
Planning care and liaising with providers
Coordinating and monitoring services
Advocating feedback on services to ensure satisfaction
Providing ongoing case management and case conferencing
Providing health promotion and education
Assisting families with daily appointments and long term care needs
Our Community Nurses have expertise in a vast range of areas including: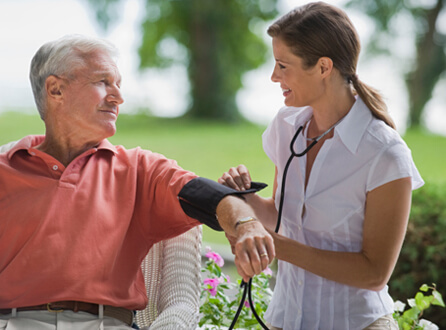 Post acute/surgical care
Hygiene/personal care
Medication management
IV therapies and injections
Wound management
Aged care
Bowel management
Continence promotion
Dementia care
Diabetes management
Mental health
Palliative and terminal care
With Regal you are in safe hands
Receive the very best healthcare from our specialist Nurses, while continuing to enjoy independent living and all the comforts of home. Click Here
With ageing, one's risks and requirements change with every person being unique in the challenges that ageing delivers. Regal Home Health's in-home clinical services make it possible for one to remain safely at home and retain the dignity of living in their own environment.
In-home nursing care is the ideal solution for ageing adults who need assistance to perform daily tasks. Regal's own nursing team can help with medication, wound and continence care, provide therapies and injections, or take care of hygiene and/or personal care. Getting older, having surgery, or recovering from a wound or illness doesn't have to mean you have to leave the safety of your own home. 
How does in-home nursing care help?
Many older adults develop an increased risk of falls and injuries. The loss of balance and vision and muscle weakness put them at a greater risk. Those with dementia are at a greater risk of falling and suffering from fractures. In-home nursing care provides them with services that make them safer without the need to leave their home.
Can my loved one get dementia care at home?
During the early stages of dementia, in-home care is a practical solution that helps patients as well as their families. It's difficult for most adults to provide the time needed to ensure the safety of a loved one with dementia. As their condition progresses, their cognitive abilities and memory continue to decline. Simple tasks like going up and down the stairs or cooking can be dangerous. Our services provide the necessary assistance and/or supervision to ensure those we care for can live safely at home. 
Regal Home Health has been providing quality care in the home since 1965.  Our clinical background and our focus on strong clinical governance is one of the reasons we are a recognised leader in in-home nursing care in Sydney. Contact us to learn more about how Regal can provide the in-home support you or your family member need.
As one ages, a unique set of risks and challenges develop that can impede the ability to live life to its fullest. Regal understand this, having provided in home nursing care for over 55years.  Regal Nurses provide a full range of clinical assessments and services within the home. Regal Nurses are experts in identifying risks and care needs. By utilising in home nursing care from Regal Health, you or your loved ones can remain with dignity, safely at home.
Providing quality in home nursing care since 1965
As a recognised leader in in home nursing care, Sydney based Regal Health can provide the in home clinical services and support that you or your loved one needs. Our expert team is highly trained in the field of in home nursing care and have the ability to assist with medication, wound and continence care, catheter care, intravenous therapy and a full range of Clinical Assessments. 
A personal approach to care
Regal's  in home clinical services and nursing care plans are tailored to each individual's needs to ensure that our team is providing you or your loved one with the right care to achieve optimal health outcomes. Regal's  in home nursing care can handle all clinical requirements from the assessment of needs and identification of risks to the development of comprehensive care plans.  Regal Health has a reputation for being a leader in in home nursing care.  Every client becomes a member of the Regal Community with each member receiving  in home care to the highest possible standards.
Arrange in home nursing care Sydney
Our community nurses have expertise in a vast range of areas which can support an aging relative or a loved one in remaining comfortably in their own home. Contact us today to discuss your personal situation and see how Regal Health can assist in keeping you or your loved one safety at home.